Coverage and savings calculator
Type in the name of your medication or your condition to see how much you can save.
Download our complete list of medications.
Genrus Price
This is your price using Genrus United.
Without Genrus
This is your price without Genrus United.
Annual savings
Membership price not included.
Prescription pricing based on 30 tablets or per package. Prices are effective today and subject to change without notice at any time.
The drugs you know and trust. For less.
Prescriptions filled by Genrus United pharmacy partners are high-quality, tested, and approved generic (non brand name) drugs. They're the same drugs you may already be getting through your current pharmacy.
Your savings add up quickly
Members with diabetes or cardio-vascular needs, for example, can expect to save over 50% on their prescription costs. To see how much you can save on your prescriptions, use our savings calculator.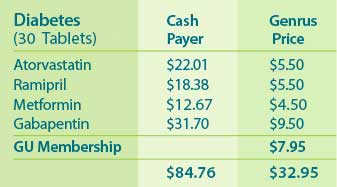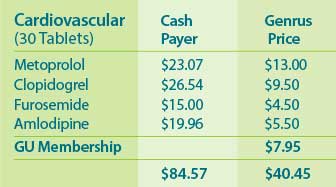 Medication
Save on on birth control and drugs for chronic ailments such as cardiovascular, high blood pressure, cholesterol, heart disease, diabetes, ulcers, reflux, asthma, anxiety, and depression.