Coverage and savings calculator
How many prescriptions will you save 30-50% on?
Download the complete list of medications and co-pays.
Genrus Co-Pay
This is your co-pay using Genrus United.
Without Genrus
This is your co-pay without Genrus United.
Annual savings
Before $1.95/mth
Prescription pricing based on 30 tablets or per package.
Hear More, Spend Less! Good hearing health is vital to staying engaged with the people we love. Genrus United members can now benefit from hearing care at lower prices and affordable solutions through our Hear Right Canada partner.
Genrus United members in Nova Scotia, Newfoundland and Alberta have access to the following hearing health benefits:
Free $80 audiology evaluation – no obligations
Free care and maintenance for your hearing devices every 6 months
40 batteries for just $10 (all sizes)
Up to 30% savings on hearing aids
Interest free financing with no credit checks
Show your Genrus United membership at these locations:

Unit 15 – 912 Cole Harbour Road, Dartmouth, NS, (902) 406-2413
Suite 202 7907 Highway 7, Musquodoboit Harbour, NS, (902) 406-2413
Newfoundland Hearing Health Centre – Toll-Free Number: 1-888-745-5933
10 Gibson Drive, Mount Pearl, NL, (709) 745-5133
Suite 105 57 Thompson Street, Clarenville, NL, (709) 466-5503
12526 – 132 Ave NW, Edmonton, AB (780) 760-4008
P: (902) 406-2413 | F: (902) 406-2415
Genrus Health offers fast and easy 24/7 access to a physician or nurse practitioner in the comfort of their own home. No more having to spend hours at emergency or a walk-in clinic for treatment because you don't have a doctor, or you can't get an appointment.
Coverage
Save 30-50% on Everyday Medications prescribed for mental health, birth control, impotence, and chronic conditions like high blood pressure, heart disease, diabetes, ulcers, reflux, and asthma.
Your savings add up fast
See how Genrus United members save over 50% on their prescription co-pays.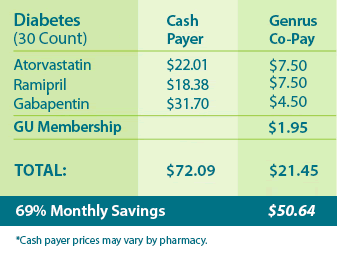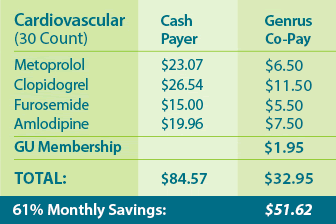 Why Lynn joined Genrus United