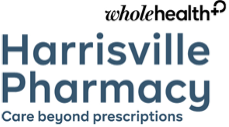 Partnership with Genrus United offers affordable option for people without drug coverage
Today, Harrisville Pharmacy and Genrus United announced the launch of a partnership to bring an innovative approach to affordable healthcare to Greater Moncton. This new offering is sweeping across Atlantic Canada and Southeastern New Brunswick residents now have access thanks to the team at Harrisville Pharmacy on Shediac Road.
Harrisville Pharmacist Owner, Andrew Drover, says Genrus United really helps patients who don't have health coverage. "We see better health outcomes when clients take their medication regularly. Genrus United membership helps remove a financial barrier resulting in improved use of medications"
Genrus United provides 30-50% savings on everyday medications prescribed for mental health, birth control, erectile dysfunction, and chronic conditions like high blood pressure, heart disease, diabetes, ulcers, reflux, and asthma.
"We started Genrus United so every Canadian can access affordable healthcare. If you don't have insurance or have a high deductible, even the most basic medications can cost a fortune" states Genrus United CEO Paul Graham, based in Truro, Nova Scotia.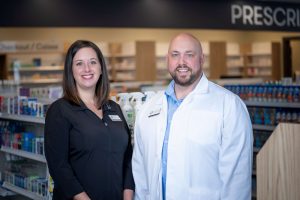 Membership to the Genrus United savings program is only $1.95 per month. Anyone can join regardless of age, health history, employment status, or existing coverage by visiting www.genrusunited.ca. Graham adds, "Many are finding themselves accumulating debt to pay for essentials like groceries, fuel, and prescriptions. Families are struggling with inflation and saving hundreds of dollars on prescriptions is going to help their budget."
Kathy and Todd Hyslop found themselves without health insurance and couldn't believe how expensive it was going to be to pay for their medications out-of-pocket.
"Joining Genrus United has helped us stretch our dollars", Ms. Hyslop says.
Here are two examples of a Genrus United member reducing their monthly prescription co-pays.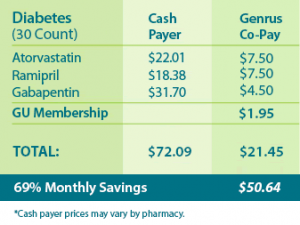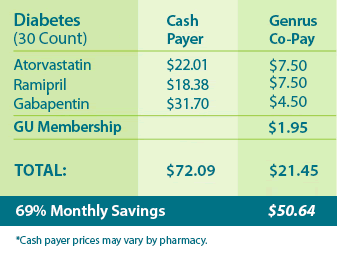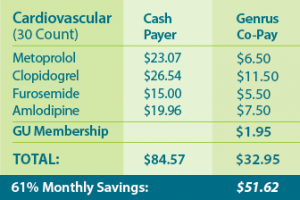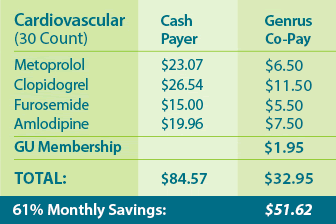 "People are so excited," says Jérémie, a pharmacy assistant at Harrisville Pharmacy. "Just one prescription covers more than the cost of the membership. Anyone taking multiple medications and paying out of pocket for their prescriptions enjoys significant monthly savings."
Genrus United partners with community minded and locally owned pharmacists who are available to answer your questions, knowing that when you have a question or need advice, they're there for you when you need them.
About Harrisville Pharmacy Inc.: Harrisville Pharmacy is Moncton's newest neighbourhood pharmacy located near the corner of Shediac Road and Harrisville Boulevard. Founded by Erin and Andrew Drover, Harrisville Pharmacy's goal is to create a uniquely personal pharmacy experience that blends empathy with high-quality health care. By putting the needs of their patients first, they can offer a level of care that goes far beyond the prescription. Harrisville Pharmacy offers a modernized pharmacy experience as well as professional home health and wellness products and services.
For more information about Harrisville Pharmacy, contact Andrew Drover at 506-858-5050 or rx@harrisvillepharmacy.ca.